Thierno est nor in Dakar on 19/11/93 on which the vit toujours avec sa famille, dans la Cité Castors. À la suite d'un vaccin, dont on a perdu la trace, effectué dans la clinique locale, sa croissance of him s'est ralentie et modifiée à l'âge de 1 an, sa force of him s'est affaiblie. Dans les premières années, tant que concela him était possible, sa mere di him to supporté les frais du seul traitement prescit, a bihebdomadaire massage.
Toujours sans diagnosis, Thierno ne marche pas et n'est pas en mesure de se déplacer avec le fauteuil roulant manuel d'occasion, qui lui a été donné en 2012. Un don lui a fourni son premier fauteuil roulant, qu'il utilise aujourd'hui pour take sa douche, in 2006, à l'âge de 13 ans. The a pu se rendre à l'école avec satisfaction jusqu'à la première année du lycée, lorsqu'il n'a plus été possible for him d'être transporté jusqu'à son école of him.
A good mood et les amis ne manquent pas, Thierno est un jeune homme brillant qui contribue aux dépenses de la famille grâce à de petites activités. Il est équipé d'un smartphone here he permet de communiquer et de maintenir des contacts. Sa vie di lui pourrait s'améliorer considérablement grâce à un fauteuil roulant électrique motorisé, actionné par une manette, d'une largeur ne dépassant pas 68 cm, (puisqu'il s'agit de la taille du passage le plus étroit pour accéder à sa maison of him). A portable computer or a tablette, a Wifi abonnement, pourquoi pas même une visite médicale et des soins sanitaires.
(Dario Dongo)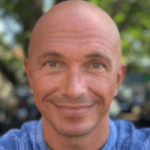 Dario Dongo, lawyer and journalist, PhD in international food law, founder of WIISE (FARE - GIFT - Food Times) and Égalité.